Lottery Breakdown
So I usually don't do this, but yesterday I actually watched the majority of the draft. I'm going to give a breakdown of how I felt the Lottery went. 
1. New Orleans Hornets: Anthony Davis
A no brainer pick. New Orleans traded Emeka Okafor and Trevor Ariza and are rebuilding with youth. Anthony Davis while thin provides them with a solid last line of defense. I think he'll get backed down by bigger centers, but nowadays the number of true post centers are rare. I think he'll be fine because of his length. Offensively, I'm not envisioning 20+ pts on a nightly basis, but that's great because that's not why he was drafted. Anytime Anthony Davis gets you 20+ points is just extra frosting on the cake. 
2. Charlotte Bobcats: Michael Kidd-Gilchrist

So before you knock the Bobcats and Rich Cho, thinking "THEY PICKED HIM TOO EARLY!!!" I thinking the same exact thing, until I actually broke it down. The only people that wanted the number 2 picks were people that wanted to draft Bradley Beal. The only 2 teams that could offer a worthy draft pick for Beal were Washington at 3 and Cleveland at the 4 spot.

Scenario A: Bobcats trade with Cleveland. Cleveland picks Beal with 2nd, and most likely Washington picks Kidd-Glichrist with 3 due to the same reason the rest of the league wanting a guy like that. The Kidd (pun definitely intended) is a winner at every level he's been on. He plays hard. He is athletic. He doesn't care if he scores 50 or 5, he just wants to win. The Wizards would snatch him up in an instant, leaving the Bobcats scrambling, because the player they really wanted (Kidd-Glichrist)is now off the board. Charlotte would be shooting themselves in the foot with this trade.
Scenario B: Bobcats trade with the Wizards. This scenario required a little more thinking. Anytime someone trades up, they would not only have to give up their spot but another draft pick as well. The Wizards know the Bobcats aren't going to draft Bradley Beal. How do I know this? DJ Augustin, Kemba Walker, Gerald Henderson, and newly acquired Ben Gordon. All these guys are undersized for their positions. Charlotte rolling the dice and taking Beal over Kidd-Gilchrist seems great from a talent standpoint, but they just traded their SF. MKG fits too well in the Bobcats system for them to draft Bradley Beal. So, basically, the Wizards don't trade up one slot, because they know they're getting Beal at 3, because Charlotte cannot afford to NOT get MKG. There's no reason the Wizards make the trade and give up multiple draft picks to move up 1 slot, when they know the Bobcats are stuck.

Good non-move by Rich Cho to pick who you want. Drafting Harrison Barnes later would not be the answer to Charlotte's woes. Drafting Thomas Robinson would give you someone that rebounds, good motor, winner, similar to MKG, but they already have Bismack Biyombo at the 4 spot. In terms of overall package, besides Anthony Davis, no one is on the level of MKG. Props to Rich Cho and the Wizards for not making a trade.
3. Washington Wizards: Bradley Beal
Good pick for the Wizards. They get who they wanted all along. Whether as a starter or coming off the bench, Bradley Beal is what the Wizards need. A SG that can handle the ball. Good character guy is another bonus that the Wizards looked for this year. He can shoot. He can get to the rim a little. He is not a horrible defender. He can rebound. With the lineup of Wall. Beal. Ariza. Nene. Okafor. They can definitely compete night in and night out. 
4. Cleveland Cavaliers: Dion Waiters
Initially this was a head-scratch-er for me, but it makes sense after I thought it over. They needed scoring to go along with Kyrie irving. The choices here were Waiters or Harrison Barnes. Thomas Robinson would be in this group too, but Tristan Thompson played solid for them last year, to bring on another power forward imo would just be bolstering a position for a team in no position to be doing so. You build through the draft. Bottom feeders of the NBA, do not have the luxury of bolstering, they need help asap. Harrison Barnes would have been fine, especially given the familiarity with Kyrie Irving, but they have a glaring need at SG. 

Dion Waiter has some nasty to him and can drive to the hole. He is ferocious. He brings tenacity to a team that is in desperate need of it. He will not be bullied. I'm more okay with the pick after weighing Dion Waiters vs Harrison Barnes.
5. Sacramento Kings: Thomas Robinson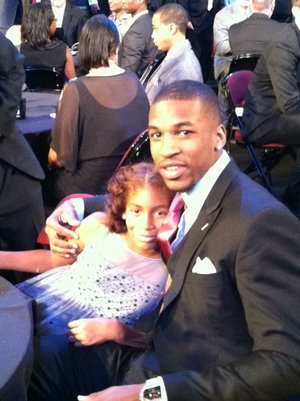 Sacramento desperately needed someone like Thomas Robinson. High character guy. Mature. Mature. Mature. The hardships he went through last season cannot be overstated. Loss of family members. Custody battle of his younger sister. I hope he goes into Sacramento and sets an example for Demarcus Cousins and Tyreke Evans that youth is no excuse for being a knucklehead. Hopefully he changes the culture there in Sactown. Oh yeah btw, the guy can ball. With him and Demarcus Cousins on the boards, other teams better make sure they're taking quality shots, because offensive boards won't be gotten without a fight.
6. Portland Trailblazers: Damian Lillard 
Damian Lillard comes from Weber State. I like the pick, just I get the feeling this guy is a baller. His physical attributes scream Derrick Rose. I'm not saying he's Derrick Rose, but given the right system and opportunities, I think he has promise. 6'2 with 6'8 wingspan, athletic, can score, willing defender, willing passer. I like him. The fact that he's a PG from Oakland, makes me feel that much better about him. 
7. Golden State Warriors: Harrison Barnes
Safe solid pick. Golden State needed a SF, because for some reason Dorell Wright shut it down last season. Harrison Barnes is versatile. I dont love this pick nor do I hate it. Moving along. 
8. Toronto Raptors: Terrence Ross
The biggest reach of the draft yesterday. I really don't know what direction the Raptors are going. They need scoring, and Ross provides that. Calderon. Derozan. Ross. Johnson. Bargnani. It still feels like they have the same team to me. James Johnson or Terrence Ross off the bench? There's too many question marks for them. The Raptors have to figure out soon if they want to get a high draft pick or compete in the playoffs. Right now they're good enough to not be a bottom feeder, but not good enough to do damage in the playoffs, let alone make it. They're in the worst position a team can be in. Unless they bite the bullet and tank it or make a splash in Free Agency (I cant see how they land a big fish though), they will continue to get mediocre draft picks. Mediocre is the perfect word to describe the Toronto situation. 
9. Detroit Pistons: Andre Drummond
Detroit was right in drafting for potential. It doesn't look like they're going anywhere for a while, so it'd be foolish for them to draft someone that had a lower ceiling but was more proven. Pairing him with Greg Monroe is good. On paper. There's so many question marks with this guy. I don't know if he wants it. Blessed with athleticism and size, he should have absolutely DOMINATED at UCONN. But, he didn't. UCONN has a good history of sending bigs to the NBA. They don't have a good history of sending stars though. The last solid guy they had was Emeka, and he was taken 2nd. If it's any consolation, Bynum was going to go to UCONN had he not declared for the last "straight from HS to NBA" year. The jury is still out. This is such a crapshoot pick. Medium risk, high reward. I cannot fault them for making this pick, and 9 is a low enough draft pick that you can gamble with and hope for the best. If he does well, great, that doesn't mean he should have gone earlier, because if he flames out, the same can be said that he should have been drafted lower. Drummond at 9 is perfectly acceptable to me. I can live with that, let's just hope Joe Dumars and the Pistons can as well.
10. New Orleans Hornets: Austin Rivers
Good pick for New Orleans. There are murmurs around the league that Austin Rivers is a ball hog. Okay, so he is a BIG ball hog. This is the NBA, and the talent surrounding Rivers is so much greater than the hs level and even at Duke. He was the man on both teams, he needed to be a ball hog. Granted he may have been such a ball hog that his teammates could never get into a rhythm. Who knows, it's a "what came first, the chicken or the egg" argument. I like his tenacity, and he has one NBA skill that all teams covet, the ability to create your own shot. With the rules like they are nowadays, you can't touch anyone on the perimeter, so good luck guarding him. Him mixed with Eric Gordon, who can also create his own shot, will be a nice 1-2 combo for New Orleans. I'm okay with this pick, because Jarret Jack and Grevis Vasquez are still on the roster, and are serviceable PG's in case Austin Rivers does get out of line. I trust that Monty Kiffin, who has known Rivers since he was a toddler will have no problem benching him, and Austin Rivers will respect Monty Kiffin. The Pros of this pick outweigh the Cons.
11. Portland Trailblazers: Meyers Leonard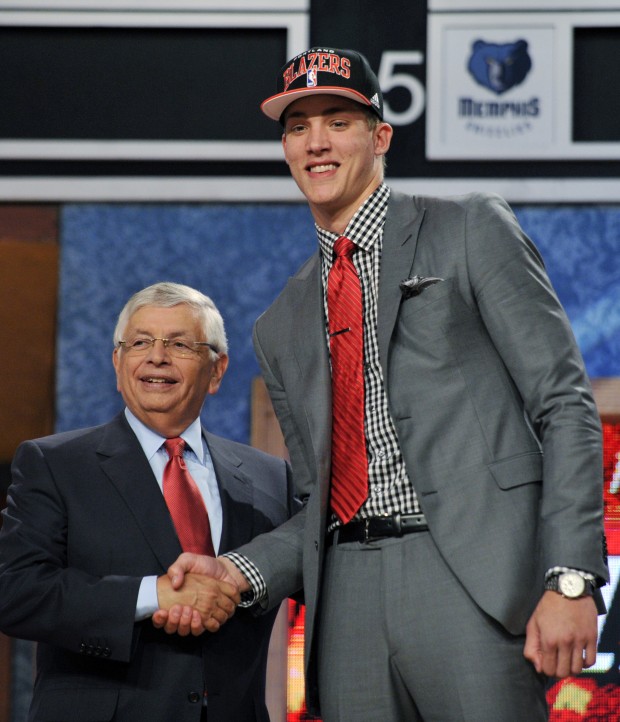 Blazers needed size to go alongside Lamarcus Aldridge. They got an athletic big. While raw, all Meyers Leonard has to do for the Blazers is rebound and defend. He's got good touch for a big, but he should be focus on rebounding and defending first. The scoring will be limited as he has Lillard, Matthews, Batum, and Aldridge getting first dibs. 
12. Houston Rockets: Jeremy Lamb
Either Houston is making this pick to trade, or Kevin Martin is on his way out soon. Granted, Lamb doesn't need to be a starter, but it'd be nice to be drafting starters if you're in the lottery (unless you have a bonafide stud at the position). Lamb is basically Kevin Martin imo. Not a crazy pick. Nothing to see here. There's just so much uncertainty in Houston that I'm not going to waste my team talking about the hypotheticals of possible lineups when their whole team is tradeable.  
13. Phoenix Suns: Kendall Marshall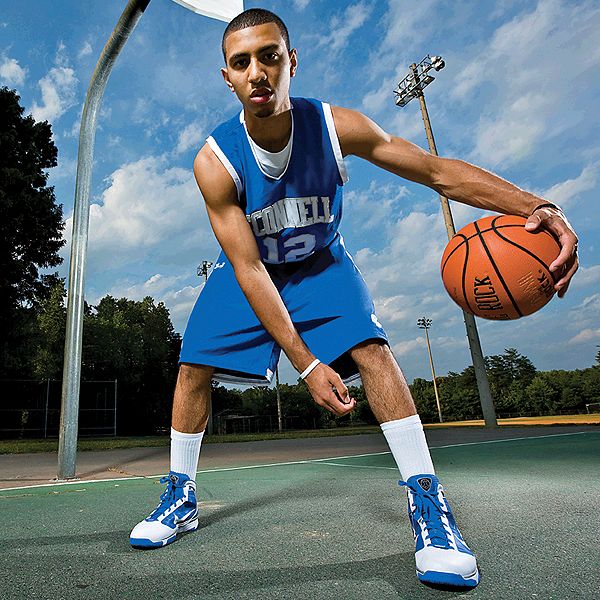 Too cool to attend the draft so I'm not going to address this pick. Moving on. Just kidding.
Kendall Marshall is put in a perfect situation. Learning from Steve Nash, he fulfills the rule of not being drafted as a starter, because lest-you forget Steve Nash can still ball. Marshall is tall enough and a good enough passer that his lack of D will be overlooked. It doesn't hurt that Steve Nash is not a defensive stalwart, that Alvin Gentry and Suns fans won't notice much of a dropoff defensively. Marshall can hit the open shot, but in terms of finishing and taking big shots, he is way behind Nash in those categories. Kendall, just soak up as much knowledge as you can and continue working in the gym, and you'll be fine. 
14. Milwaukee Bucks: John Henson 
John Henson can help fill some of the defensive void left by last year's Bogut trade.  Luckily for Henson, he won't be asked to do too much as the PF position is quite crowded. The bright side is that he can use that time to study game film, work on his offense, and work on filling out his frame in the weight room. Illyasova. Gooden. Udoh. Luc Richard. All these guys are ahead of him. What's good is that none of those guys are irreplaceable, so if Henson wows Scott Skiles, he can supplant them as the starter. It doesn't hurt also that he can get learn little nuances from newly acquired defensive stud Samuel Dalembert. 
Thanks for reading, if I have time I might make a breakdown of the rest of the draft. But until then. Respect the call.